The Thickshake Factory
1st Floor, Dr As Raonagarrd

Secunderabad

Hyderabad

-

500062

Above Jockey Store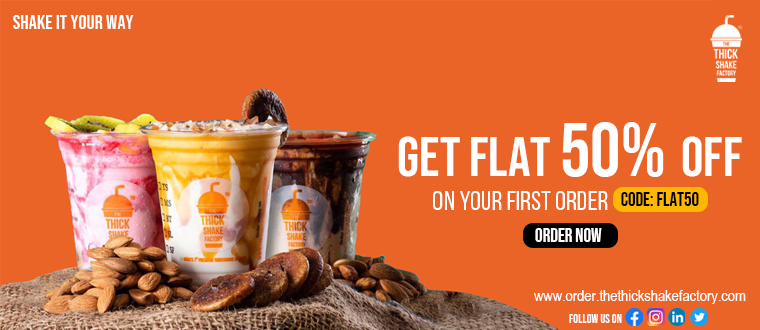 About The Thickshake Factory
The Thickshake Factory Want to enjoy a thickshake every day of the year? Waltz into The ThickShake Factory™ and get ready to instantly elevate your happiness quotient. Loved by those who love their shakes thick, rich and delicious, The ThickShake Factory™ is the most-loved destination for the thickest shakes in town! A winner of multiple awards, The ThickShake Factory™ is the perfect place to indulge and treat yourself to India's most-premium and most-adored thickshakes. Blended perfectly for a delightful experience, a flavourful sojourn is just a thickshake away; morning, night, at work or home. The ThickShake Factory™, one of the fastest growing and most awarded thickshake brands in India, invites you and your favourites to the 100+ stores across geographies. Well, here, it's always shake-o-clock!
The address of this store is 1st Floor, Dr As Raonagarrd, Above Jockey Store, Secunderabad, Hyderabad, Telangana - 500062.
Tell us about your experience.
Scan this QR code to discover more with us.
Download QR
Mon

10:00 AM - 11:59 PM

Tue

10:00 AM - 11:59 PM

Wed

10:00 AM - 11:59 PM

Thu

10:00 AM - 11:59 PM
Fri

10:00 AM - 11:59 PM

Sat

10:00 AM - 11:59 PM

Sun

10:00 AM - 11:59 PM
Other Stores of The Thickshake Factory
Get Direction To The Thickshake Factory
Cash

Credit Card

Debit Card

UPI
Dessert Restaurant
Fast Food Restaurant
Beverage Store
Self Service Restaurant
Catering Food And Drink Supplier
shakes near me
ice tea near me
slushes near me
chocolate shake in Secunderabad
shakes milkshakes near me
thick shake near me
kitkat shake near me
lemon ice tea near me
cold beverage in Secunderabad
iced tea near me
chocolate milkshake in Secunderabad
lemon iced tea near me
chocolate milk shake near me
kitkat milkshake near me
brownie shake in Secunderabad
choco shake near me
shake milkshake near me
icetea in Secunderabad
brownie milkshake near me
Nearby The Thickshake Factory Stores